March On! ...the history of the
Toronto Optimists Drum & Bugle Corps
Toronto, Ontario, Canada
Ray Roussel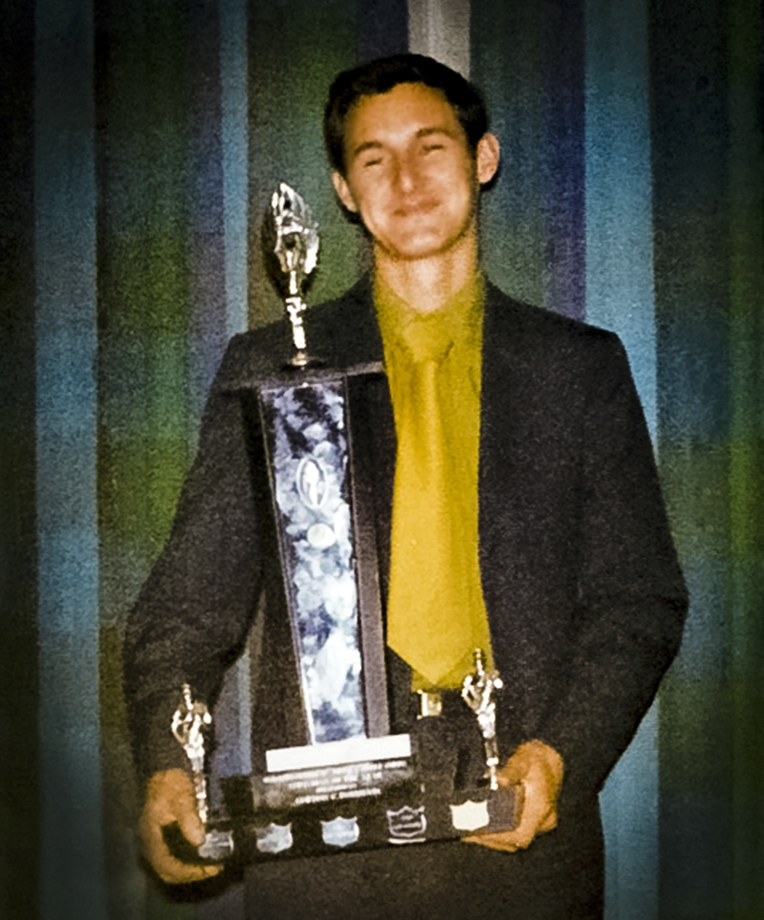 Ray with his Corpsman
of the Year Trophy (1969)
Corps: Richmond HillToppers, Golden Monarchs, Toronto Optimists, Optimists Alumni
September 4, 1948 — December 15, 2017
"Ray first marched in the Richmond Hilltoppers and then moved on to the Golden Monarchs.
The first time I met him at an Optimists Drum Corps rehearsal was in late September, 1966. Ray and his brother Dennis had joined us after watching our 1966 national championship performance in Montreal. He judged that performance as the finest he had ever seen by a Canadian Drum Corps. The first clear sign of Ray's intelligence.
Ray quickly became the leader and star of the baritone section and led the way in hard work, consistent effort and desire to be the best. No one worked harder than Ray in 1969 and he was awarded Corpsman of the Year. After drum corps Ray moved west on his way to being able to "squash a beret onto my misshapen head and take over a small central American nation via military coup"…..he got as far as Vancouver.
We wrote to each other, a lot. A letter or note or email from Ray was a glorious thing full of incomprehensible words and outrageously funny ideas. Ray was a completely self-taught man. He taught himself how to play an instrument, he taught himself how to write and arrange music and the baritone quartet he put together for individual championships in 1967, achieved new heights in small ensemble competition and was talked about for years. He taught himself how to neatly copy music and was in high demand as a copyist. He taught himself how to write by reading the dictionary and writing a journal every damn day. He taught himself about advertising and when he tired of that, he saw a need to understand computers so he taught himself the technical side of that maze, enough so that he made a living as a technical writer. To Ray, the Optimists Drum Corps was his foundation, his joy, a place from which he launched his assault on the world. There is not one human being along the way that ever had an unkind word to say about him. At every stage of his life he was happy and contented. And all who knew him, loved him. Keep on smiling Ray." —Vern Johansson
"Damn. One of the finest young men I ever knew. Ray was a joy to march beside, work with and know. I'll always remember him as a true gentleman with a sharp wit and wonderful sense of humour. A very special guy has been taken from us." — Greg Oxenham
"an icon of class, wit, and leadership"" — Thom Sacco
Ray . . . . . . . . . . . . . . . We Remember!