March On! ...the history of the
Toronto Optimists Drum & Bugle Corps
Toronto, Ontario, Canada
Len Perrin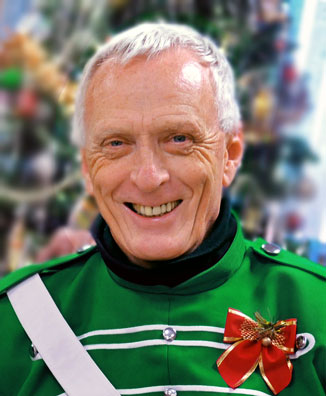 Corps: Opti-Corps, Toronto Optimists, Jesters, Commanders and Optimists Alumni
December 18, 1940 — November 4, 2011
Len was a Toronto boy who found his way into the Optimists before it was even called the Optimists! Mel remembers Len as "a sharp guy, great military bearing, hurling and flipping this 20 lb Lee Enfield rifle around." Eventually Len joined the horn line playing French horn. He worked hard and played so well that he had a solo in 1962! Like the rest of us in the competitive corps, our lives revolved around drum corps – not just ours but other corps as well. Len, Mel, Ivor and a few other guys started heading out to Oakville to help out a corps called Trafalgar. Who knew that both Len and Mel would find their future wives in this corps! After aging out of Optimists, Len played in the Jesters, then the Commanders.
In the "real" world, Len married Nancy and they had two wonderful children, Andrew and Caroline. He also worked for General Accident, volunteered for the YMCA, skied, sailed and loved the outdoors.
Following the first reunion Len was instrumental in keeping the Optimists Alumni Association going. When the Alumni corps started Len played Mellophone. Of course, before each rehearsal he'd go into YMCA mode and put on music then force us to do aerobics! From 2006 through 2009 Len was our Alumni President and, in that capacity, he was one of the guiding forces behind the design and acquisition of our current uniforms. During the winter Len fed his passion for skiing so we rarely saw him; however, once winter passed, he was always there at rehearsals and shows.
Here are a few comments from some of those who knew him.
"Wonderful smile, kind gentle man. I am glad I got to know him!"
"A kind and gentle man who I loved to hear laugh. Len, R.I.P. You will be missed."
"Len you were always there for someone who was in need. You were special."
"I remember meeting Len for the first time at our very first reunion. I will always remember him as true gentleman and a good FRIEND."
"Farewell my friend. Rest in peace and have fun."
Len . . . . . . . . . . . . . . . We Remember!