March On! ...the history of the
Toronto Optimists Drum & Bugle Corps
Toronto, Ontario, Canada
Eric Burton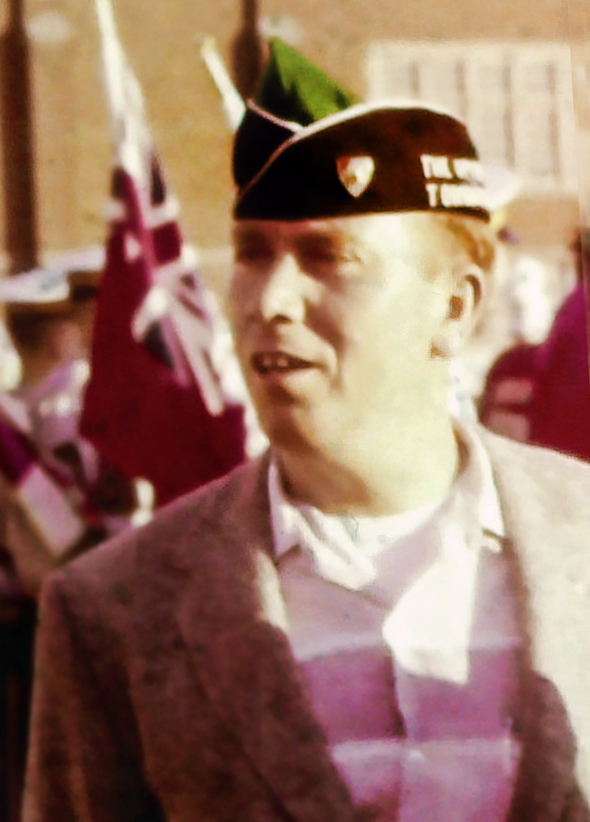 Corps: Toronto Optimists, Jolly Jesters, Army Service Corps
1929 — April 19, 2019
Eric never marched with the corps but he was the first colour guard instructor for The Optimists. He did an excellent job of training the guard and he was held in high regard. Teaching drill was just one area of expertise. At one point Lorne had an idea for tenor drum mallets with wooden balls for heads. Eric was the one who manufactured these mallets and he and Lorne sold them to other corps. Eventually Ludwig saw the idea, liked what they saw and started manufacturing their own version of the mallets.
Eric eventually moved to Rochester then, as he got older, to Florida.
Here are a couple of comments from some of those who knew Eric.
"Eric was a very good friend of mine having known him since the 50's. He played a tenor drum for the Army Service Corps Trumpet Band at the University Armories where I met him. He also played for the Jolly Jesters Drum and Bugle Corps. In 1958 when the Toronto Optimists were formed Eric became the Colour Guard instructor. He was well informed regarding the D.C.A. Colour Guard's protocol. He taught the guard to march, how to handle the flags and how to spin & toss the rifles. These were Army issued rifles weighing 10 pounds. Eric's passing saddens me, he will be missed." — Lorne Ferrazzutti
"Eric was the man who taught the Colour Guard in the 50's and 60's his instruction and knowledge of the rules were number one. Many Corps would ask him about Guard excellence on how to preform. He worked very hard to make the Colour Guard the best in the Drum Corps circuit. The Optimist Drum Corps won many awards for being the best Colour Guard in competition. He was a man who wanted excellence from the guys and he got it. The guys in the guard thought highly of him. He got the best show from the guys every time. He was a pleasant person. He was very proud of the Corps. I'm sure he had fond memories of the Corps. " — Phil Hennings
Eric . . . . . . . . . . . . . . . We Remember!