March On! ...the history of the
Toronto Optimists Drum & Bugle Corps
Toronto, Ontario, Canada
Don Daber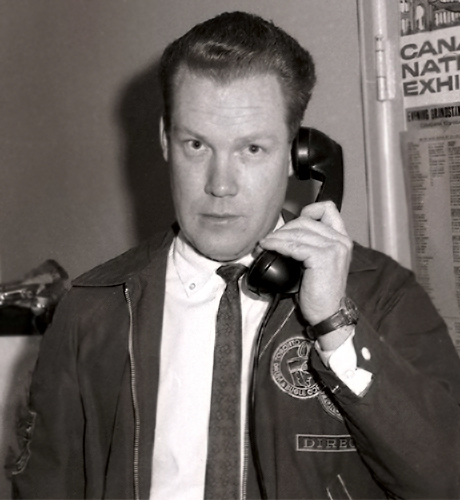 Corps: Toronto Optimists, Seneca Optimists
May 2, 1929 — April 4, 2019
Below are a few words about Don and the Optimists together with some comments from corps members who knew Don. Don is deserving of so much more so, for a more extensive biography, click here to view an Acrobat file.
Don discovered Drum Corps and The Optimists in 1960. Over the years he served as corps photographer, publicity manager and corps director of the Optimists. He also began Green Capsule Comments, the newsletter for the Optimists. In addition to doing publicity for the Canadian and Ontario Drum Corps Associations, Don was also on the Board of Directors for these organizations. Don supplied photos and articles to various drum corps publications, designed promotional material, programmes and posters as well as designing the artwork used on record album covers for drum corps records. Needless to say, Don had a tremendous impact on both the Optimists and Drum Corps in general.
There is a Memorial Video for Don on YouTube. Here is the link. The video includes some biographical information as well as samples of Don's photos, examples of his artwork for drum corps record albums, promotional materials, corps buttons, contest adverts, etc. Of course, you will find a multitude of examples of Don's work in the Photo Gallery on this website. There is even a category dealing with Don and his work in the "The Old Days" area of the Photo Gallery.
Here are a few comments from some of those who knew Don.
"Every time I put on a corps album, I see his artwork, and think of Don and glad to have met him. He will live in our memories... " — Thom Sacco
"When I think of the Toronto Optimists, I think of Don Daber." — Jim Stevenson
"Don was brilliant, compassionate and highly organized. He was a marketing guru who individually created the visual legacy of the drum corps activity. I learnt a lot from Don." — Phil McArthur
"He had such talent...which he used positively to promote not just the Optimists, but all of our drum corps. I will never forget him, nor his wonderful contributions to our activity." — Stephen J. Cooley
"A true legend and wonderful person has left us. Thank you Don for all you did for all of us." — Ted Wilson
"We were so privileged to not only have known Don, but to have befriended him. Don was a great mentor and although he never marched with the corps he was truly a Toronto Optimist. I never heard him say an unkind word and he was for the kids in the corps. He never lost sight that this was an activity that kept so many of us off the streets and out of trouble (generally)." — Richard Bruton
"It is indeed sad that Don has moved on from this world. I first met Don my first full year with the Toronto Optimists in 1960. At that time, I was in awe of his talent as a commercial artist and the many attributes he brought to the corps through his art, writing and ideas. My tenure playing in the corps lasted for eight years. Throughout that time, Don came up with many inventive ideas that made belonging to the Optimists a special thing – not only the championships we won but the banquets, five-year rings, twenty-one club, GCC and the store on Keele Street, to name a few that he was either instrumental in or partnered with others in bringing to fruition. For many of us, the history of our teenage years was captured by Don on film; if it had not been for that, there likely would be no record of our participation or achievements in the drum corps. In 1974 when I became the corps director, Don was there with many suggestions and ideas that made the 1975 season most enjoyable for me and hopefully for the membership. Don always and only cared about the kids. "What about the kids?" "What about the kids?" That was Don's rally cry; he really did care. It was always fun to be with Don – I never heard him speak ill of anyone or talk down to anyone. It was always fun to be with him after a rehearsal and a few libations when you knew Don would start up his "Chinese Food, Chinese Food" mantra. We would all wind up a Sai Woo's, for you guessed it – Chinese Food. Don was kind and generous. In his later years, he suffered a form of dementia that would rob him and his many friends of meaningful social contact. Even though he had to go through this state to where we are today, many of us continue to benefit through his meaningful work in the drum corps world and his many photographs on the Optimist Alumni and Toronto Optimists History websites. Don may have left us, but his legacy lives on through the media that he loved." — Doug MacKenzie
Don. . . . . . . . . . . . . . . We Remember!