March On! ...the history of the
Toronto Optimists Drum & Bugle Corps
Toronto, Ontario, Canada
Dick Brown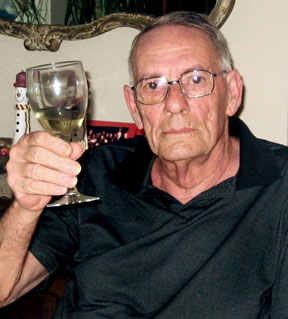 Corps: Toronto Optimists, Optimist Lancers, Optimists Alumni, Midtowners and Golden Monarchs
Dick was a member of the management team of the Toronto Optimists and the Optimists Alumni Drum and Bugle Corps for many years. He was also Assistant Director of the Midtowners and the Golden Monarchs; Founder and Director of the Lancers Drum and Bugle Corps; and, Secretary/Treasurer of the Canadian Drum Corps Association from '64 to '69.
Clare Reid wrote:
"On October 25th, 2010, I lost my oldest and best friend. Dick Brown and I met about 55 years ago. We both represented our Corps in the Ontario Drum Corps Association and both of us were also elected to the Board of Directors of that group. The Association grew to have Corps in every major area of Ontario, and some of the other notables in the association were: Alf Smith of 2nd signals, Al Baggs the Optimists and Chief Judge and Stan Biggs of the Guelph Royalairs. It was decided we should expand the movement and at the request of some Corps in Quebec we held a series of meetings and eventually formed the Canadian Drum Corps Association and a chapter in Quebec as well, with its own Board and Judges' chapter. Dick and I were also members of the Judges association during the early years.
We worked together in organizing and in some cases running many Drum Corps contests over the years, the last being the 2009 and 2010 Optimist Alumni shows. We also had our wives Chelsea and Glenda as well as Gladys Baggs assist us in many of the contests looking after the tabulation of the Judges' scores, etc; the "If you can't beat them, join them" approach I am sure. I, like Dick, worked with the Junior and Alumni Optimists Corps and I also was on the board of the Lancers Drum and Bugle Corps at Dick's request.
Even when I lived in the South for 15 years we kept in touch by e-mails, phone conversations and visits. When I returned in 2000 my wife passed away in 2002 and shortly after, at a dinner at Dicks, he invited me to assist him in managing the Alumni Corps along with the 4 founding members. This kept me sane. We also joined Branch 344 of the Canadian Legion and served on their Board of Directors and enjoyed a few brews together. This is just a few of the major events and I will always have in my memory many others. Every time I see one of the Browns, Chelsea, Ric, Bill, Bob and Debi, I am sure I will remember others. Good bye old friend. We will work together again I am sure."
Dick . . . . . . . . . . . . . . . We Remember!