March On! ...the history of the
Toronto Optimists Drum & Bugle Corps
Toronto, Ontario, Canada
Diane Tenaglia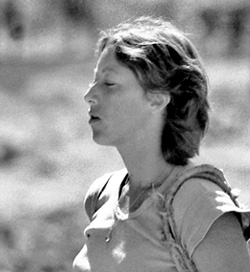 Corps: Toronto Optimists and Seneca Optimists
1959 — January 2007
Diane Tenaglia marched in the Colour Guards of both the Toronto Optimists and the Seneca Optimists. In 1977 she was the Guard Captain of Seneca Optimists.
Diane was known for her devilish smile but mostly for her hardcore attitude in drum corps and in life. Those who had the fortunate opportunity to connect with her on a personal level found a woman with a huge heart, a great capacity for caring and a tremendous dedication to get the job done.
May her pop thru the middle of that parachute live on. (Wendy Paquin)
Diane. . . . . . . . . . . . . . . We Remember!