March On! ...the history of the
Toronto Optimists Drum & Bugle Corps
Toronto, Ontario, Canada
Bob Cook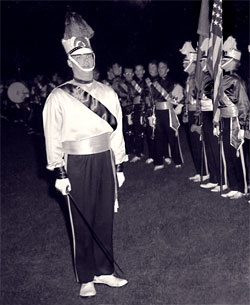 Corps: Toronto Optimists
September 22, 1941 – April 5, 2010
Bob Cook was a true, original Optimist member. The Cooks lived on Somerset Avenue, in Toronto, just one street over from Davenport Presbyterian Church, located at the corner of Delaware Ave. and Davenport Rd. So when Bob decided to join Scouts it was only natural that he joined the nearest Scout Troop, which was at Davenport Presbyterian.
When the Scout Master, "Bud" Parker, asked the boys if they wanted to start a Band, Bob was there. When the Troop moved to St Edmonds Anglican Church, next door to Davenport Presbyterian, and when they became the Davenport Trumpet Band, Opti-Corps and finally the Toronto Optimists, Bob was on the journey.
His Mom and Dad were quite active with the Scout Band, attending many events and always taking photographs. His Mom was an important part of the Women's Auxiliary, helping with fund raising and things like sewing new scarves for the Band.
Through the journey from Scouts to Opti-Corps, Bob was in the drum line. Bob switched to the Colour Guard with Toronto Optimists and he stayed from 1958 till 1961. In 1961, he became Guard Captain and aged out at the end of the year.
Bob was pre-deceased, many years ago, by his brother Ron, the Optimists first cymbal player. Both are fondly remembered.
Bob. . . . . . . . . . . . . . . We Remember!