March On! ...the history of the
Toronto Optimists Drum & Bugle Corps
Toronto, Ontario, Canada
Bill Thorne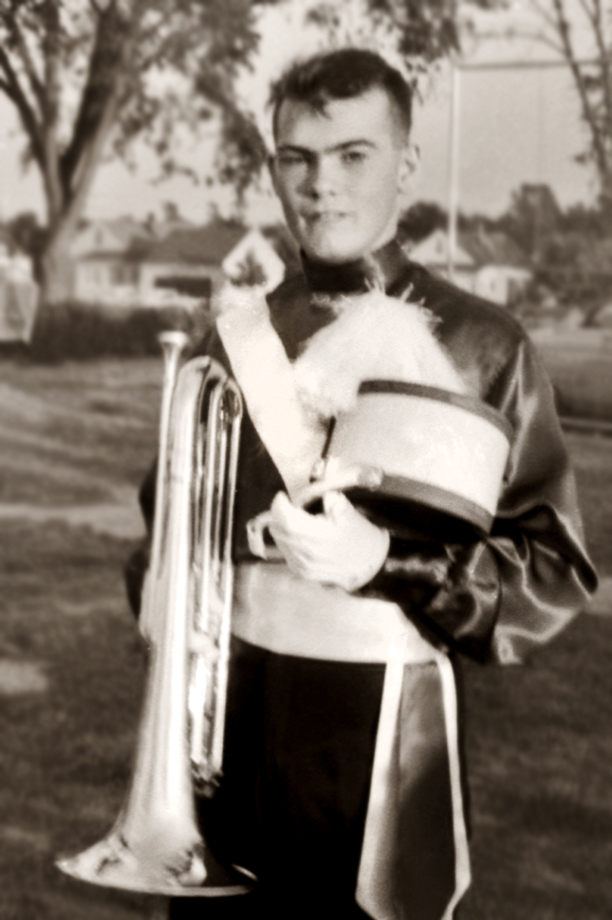 Corps: 618 Air Cadet Squadron, Royal Knights, Leaside Lions, Toronto Optimists
May 30, 1944 – April 23, 2021
Having marched with the band of the 618 Air Cadet Squadron, the Royal Knights and the Leaside Lions Bill was a well-seasoned corpsman when he joined the Optimists after the 1959 season. At that time there was an exodus from Leaside as Terry Sweeney, Mel Dey, Jim Stewart and Ron Cottrell joined the Optimists. Within a week or two Phil Campbell, Dave Nesbitt, Neil Ibbitson, Dave Bignell, Bill Thorne and Doug MacKenzie had also left Leaside to join Optimists.
Bill started out playing baritone before switching to the newer bass-baritones horn that Optimists had bought. Bill moved to contrabass in 1965 when Optimists got their first contrabasses. The contras were played by Bill, Dave Watt and Paul Thompson. When the corps marched onto the starting line and when we trooped the stands after performing the contras would swing their left arms and hold their contra in the hand of their outstretched right arm. It was a sight to behold! I'm sure that somewhere there is a photo of them doing that but I have never been able to find one.
In a 1963 issue of GCC Gene Chepswick wrote: "the clearest picture of this boy I can give is of one who drives an M.G., which is red and capable of breaking mach 1. It is the oddest sight to see him barreling down the Gardiner Expressway at 100 some odd in that little red sports car, sporting a little red beanie (to match the colour of the car) and little Jeff Shimo seated on his right while directly behind is a huge horn case skillfully tied to the trunk."
The February 1990 issue of the magazine, Parades and Pageantry, published an article about Bill and his kids, all of whom marched in drum corps. Here is a link to the article.
Here are a few comments from some of those who knew Bill:
"I liked Bill a lot. A fine musician and a fine friend. " (Terry Mckolskey )
"Damn. I loved Bill Thorne. " (Vern Johansson)
"Sad to lose a great guy, he always loved a good joke, it was nice to have known you! " (Frans Rood)
"He was a true Optimist." (Barry Woods)
"Bill was a great guy and was so happy when his children became involved in Drum Corps. " (Ric Brown)
"It's a long time since I have seen or spoken to Bill but remember him as a very nice guy who had lots of talent. May he rest in peace. " (Doug MacKenzie)
Few words better sum up William Thorne's life better than those of Frank Sinatra: "I've lived a life that's full, I traveled each and every highway. And more, much more than this, I did it my way." (Bill's family)
Bill . . . . . . . . . . . . . . . We Remember!