March On! ...the history of the
Toronto Optimists Drum & Bugle Corps
Toronto, Ontario, Canada
Bernie (Doug) Thompson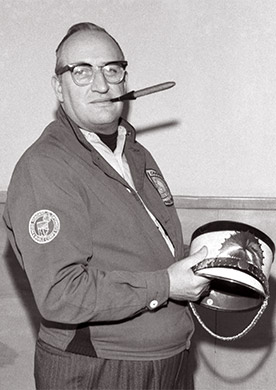 Corps: Toronto Optimists
July 26, 1917 — January 1, 1999
Bernie became involved with the Optimists in 1963 after his son Paul joined the Corps. During that year he drove one of the three station wagons that accompanied the Corps on its travels. In 1964 he became Equipment Manager for the Corps and continued in that capacity until the Spring of 1965 when he left to become involved with the Liberal Party of Canada in its Election Campaign.
Bernie actually had four children involved in Drum Corps. In addition to Paul, he had another son, Leo, who also marched with the Optimists as well as twin daughters, Bernadette who marched with Parkdale Pirettes (Lions) and Bernardine who marched with Parkdale Pirettes, Golden Monarchs, St. John's Girls, Sarnia Marching Angels, Markham Collegettes, Kawartha Kavaliers, Burlington Commanders and Guelph Royalaires. Bernie's fondest memory was of serving as an unofficial 'Personal Valet" to Drum Major, Jim McConkey and successfully compressing Jim's 40-inch waist into a 34" pant through the use of Jim's famous belt and buckle.
Bernie joined the DCAT in 1998 but unfortunately died on New Year's day 1999 before he had an opportunity to perform with the choir.
Bernie. . . . . . . . . . . . . . . We Remember!