March On! ...the history of the
Toronto Optimists Drum & Bugle Corps
Toronto, Ontario, Canada
Mr. Al Baggs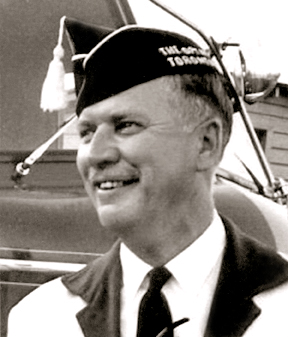 Corps: Opti-Corps, Toronto Optimists
? – February 12, 1988
Al Baggs was singularly responsible for the existence of the band that ultimately became the Toronto Optimists Drum and Bugle Corps.
He became acquainted with the Band through his work with the Boy Scouts as the District Commissioner in charge of Badges. When Bud Parker, the founder of the Band, failed to entice the Downtown Optimist Club of Toronto into sponsoring the Band, it was "Mr." Baggs that stepped in and had them reconsider their decision.
When Bud Parker moved out of the city, it was "Mr." Baggs who took leadership of the Band and guided it through two championship seasons as Opti-Corps when they won the Canadian Novice and then the Junior "B" Championships.
It was he who had the vision, the organizational powers, and the determination that created the Toronto Optimists Drum and Bugle Corps, arguably Canada's greatest Drum Corps and probably one of its greatest marching music ensembles.
Fondly and forever remembered as "Daddy" Baggs.
Obituary for Mr. Baggs as published in the Toronto Star
Biography of Mr. Baggs (originally published in Green Capsule Comments, Volume 2, Number 3)
Al . . . . . . . . . . . . . . . We Remember!