March On! ...the history of the
Toronto Optimists Drum & Bugle Corps
Toronto, Ontario, Canada
Toronto Optimists: 1966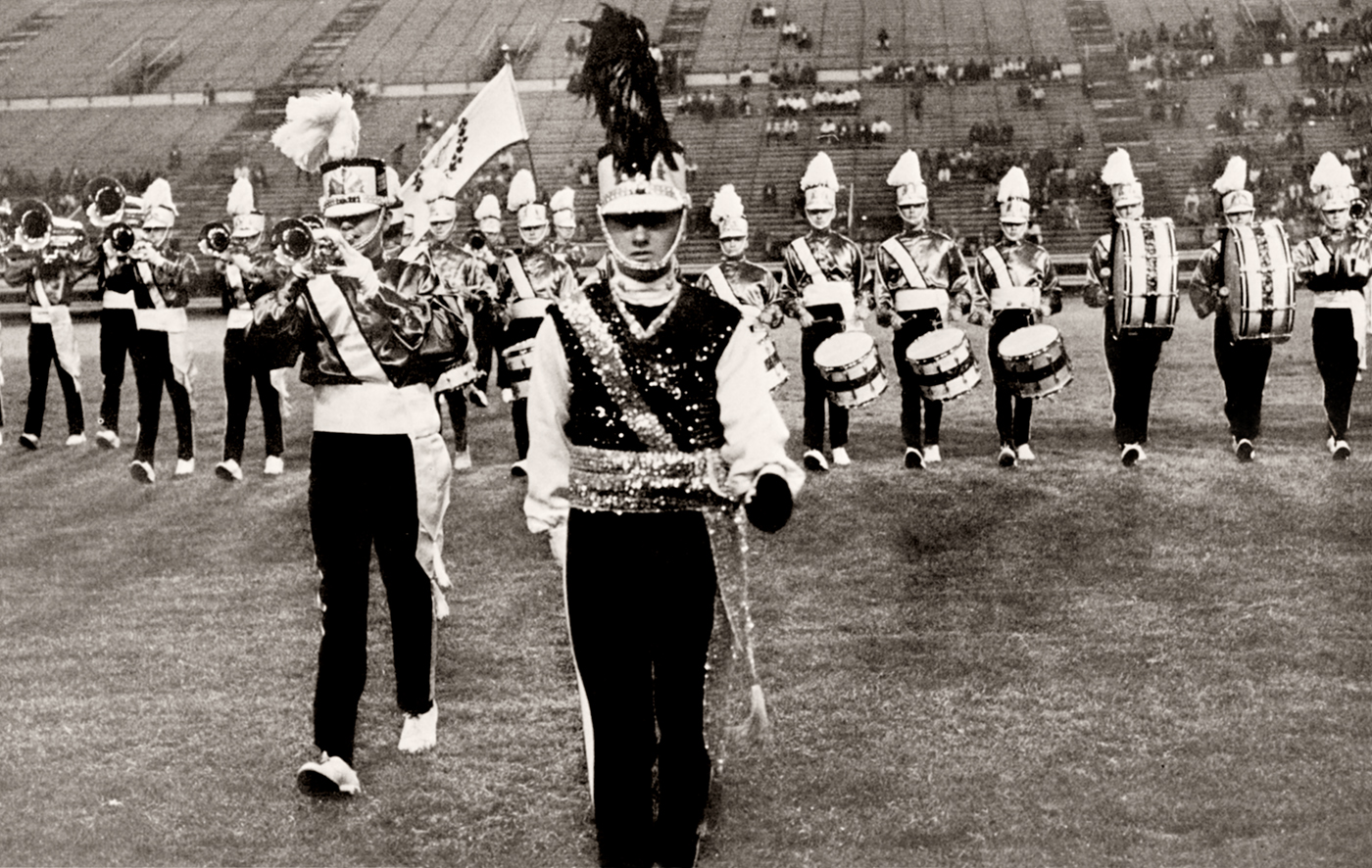 Doug MacKenzie, soloist, and Vern Johansson (Shrine Contest, 1966)
Looking back at 1966
(Memories submitted by Brian Byrne)
After Playing in Grantham for five years it was time for me to move on to the Optimists for the next four years. I joined up almost as soon as nationals were over and wore "Green" for the first time in a blizzard up in Sutton doing a Christmas Parade. What a way to begin my new career!!
It was quite apparent that when I joined that there had been quite an exodus from the 65 Corps, the old "Age Out Factor". "Not to worry" said George Wright, "we're the Optimists". With a crew of stalwarts like Johansson, MacKenzie, Thompson, Kaiser et al we got to work.
Our first show of the year was in St. Catharines (my home town) and I remember well the Corps condensing the field show into an arena size floor area. Unbeknownst to me was that the rumour mill had been working over time and that the "word on the street " was that the Optimists were done!
Shortly after our rehearsal time a couple of friends from Grantham came up to me almost breathless to announced that they had never seen the Optimists look and sound so good – the rave reviews began coming in.
The Shriners International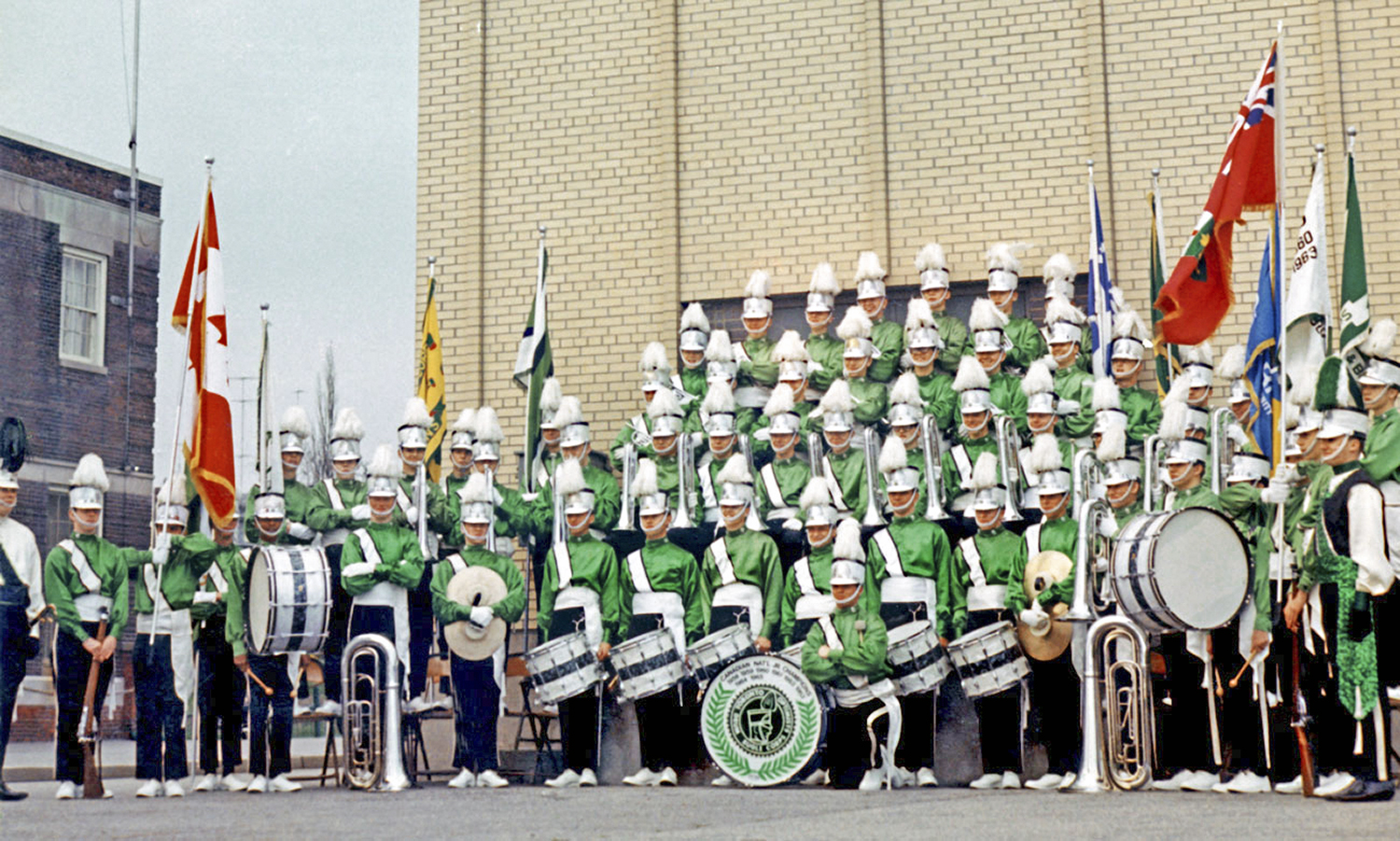 Toronto Optimists (Shrine Temple, 1966)
Our next big moment came about a month later at the Shrine Show and now I knew I had hit the Big Time. The mood of the Corps kind of surprised me as every one seemed pretty calm and confident but what did I know?? I was just a rookie – Mike Thys' rookie to be accurate.
I thought we did a pretty inspired show and a couple of hours later we had beaten the Chicago Royal Airs, the 1965 VFW and American Legion National Champions. Not bad for my first competition. The rest of the year was pretty much a blur except I do remember being billeted with Danny Panessa who was at the time Garfield's Drum Major. A heck of a nice guy but the rest of the trip was a disaster as we got blown out of that Eastern Circuit big time. It was a long bus ride home.
In 1966 we had a lot more contests in the U.S. than we did in 1965. As with all things, there are positives and negatives. On the positive side we had more opportunities to compete against the better American corps. The feedback on the score sheets from these contests gave us information to refine our show and make it better. On the "down" side these trips were hard on our bodies and made it more difficult to do a first rate show. Since most of our guys had summer jobs we often didn't leave until midnight. During the 10-12 hour drive to these contests we'd try to get some sleep on the bus. Once there, we'd practice until dinner, eat and, then, do the show. If we only had one show, we'd head home; however, if we were lucky, we'd spend Saturday night on the floor in a gym, drive to the next contest on Sunday, practice until just before the show, eat, do our show and, after retreat, we'd head home. On some trips we'd arrive home just in time to go to work on Monday.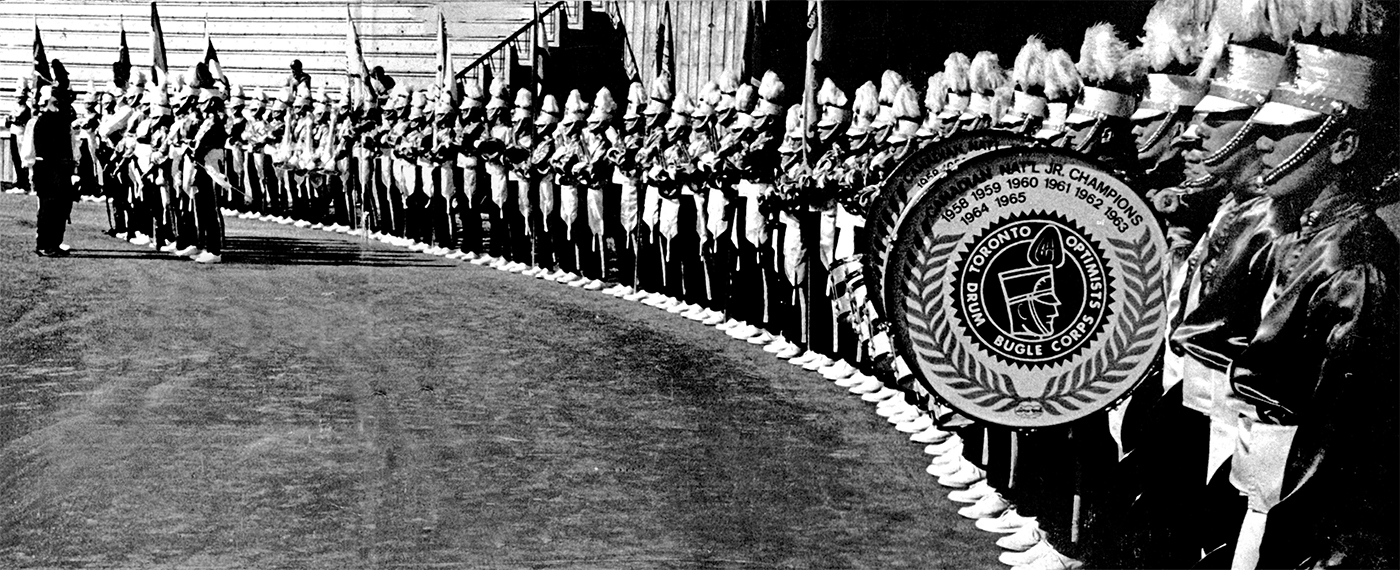 Optimists being inspected at the 1966 Nationals
Some Highlights
For a number of years we'd had a good rivalry going with St. Joe's of Batavia. During this season we competed twice – one win for them in Batavia and one win for us in Sarnia. There were no bragging rights for either of us that season. Of course we still felt great because Optimists hadn't beaten St. Joe's since 1963! And, at the Pow Wow in Kingston, NY we did beat Garfield.
With the season behind us it was now time for Nationals. While we did some fantastic shows over the next four years I have to admit that none was finer than Montreal in '66. Many stories circulated for years over that one and anyone who hasn't read that story in our Corps History should read it. Friends of mine in St. Joe's who took in the show said it was all over in about 8 counts as the Corps literally did a show of a lifetime. Now no more Rookie stuff for me – I had earned my championship and there were more to come in the ensuing years.
"The pre-show warm-ups for the 1966 Nationals were held in the heart of downtown Montreal. When the brass arrived to join the drum line, we were stunned with the sight before us. Opposite the drummers was a crowd mesmerized by the skills of our percussion section. Many wore tuxedos and fashionable gowns (obvious the theatre going audience). With much anticipation we joined the drummers but, to our chagrin, after a minute or so the crowd wondered off." — (Paul Thompson)
A special thanks to Barry Bell, what a pleasure to work with such a professional and a man who taught us a lot more than just about Drum Corps. To all the guys who marched in '66 – it was a hoot and an experience of a lifetime. (by Brian Byrne)
Scores for Optimists and some of our competitors as the summer of 1966 progressed
Corps Name
Shriners
(June 17)
Leominster
MA
(July 11)
Sarnia
(July 16)
New Haven,
CT
(July 22)
Garfield,
NJ
(July 23)
Middleport,
NY
(July 30)
Pow Wow
Kingston, NY
(Aug 13)
Ontario
Championships
(Aug 27)
Canadian
Nationals
(Sept 17)
VFW
Nationals
(Aug 24)
Optimists
78.50
72.300
82.80
72.87
80.116
85.57
81.76
82.95
86.00
Cadets LaSalle
82.40
83.65
De La Salle
74.40
77.15
80.47
79.05
80.05
Blessed Sacrament
75.65
85.866
5
Boston Crusaders
78.310
4
Chicago Royal Airs
76.42
6
Garfield Cadets
73.05
81.45
St Joe's
78.40
86.70
9
St Lucy's Cadets
77.75
83.583
86.10
7
Special Notice
We want to add a page of memories for each year of the Toronto Optimists, the Seneca Optimists and the Optimists Alumni. What you see above is an example of what we are trying to create. We hope that these pages will help to rekindle happy memories of years gone by.
Our goal is to gather corps-related memories specific to a particular year, rather than "generic" memories that would apply to all years. These memories could be about such things as performing in the corps, traveling with the corps, watching the corps from the stands, excerpts from articles in old corps mags, etc. It's not necessary to submit a whole year's worth of memories since contributions from different people can be edited and merged together to form the web page. We'll save the memories that people submit and, once we have enough material, we will compile them into a web page for that particular year. We'll probably add photos, recordings, etc then we'll post that page on the website.
If you have other memories of this year, or any other year, that you would like to submit, please send an email to Bob Carell (toronto_optimist at rogers.com)