March On! ...the history of the
Toronto Optimists Drum & Bugle Corps
Toronto, Ontario, Canada
Toronto Optimists: 1964
A Challenging Year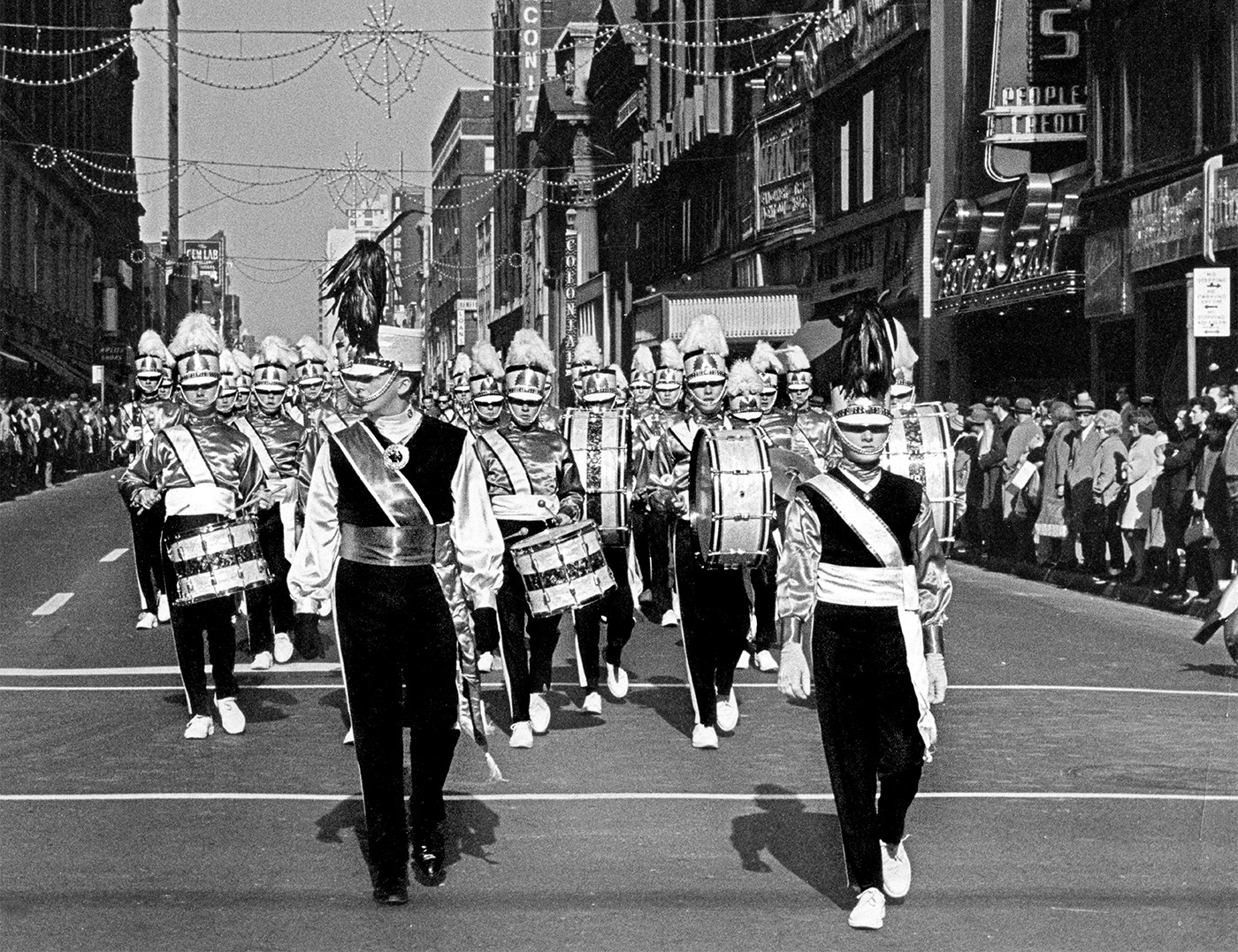 Andy and Vern leading the corps down Yonge Street
Many guys aged out at the end of 1963, including the last of the "original Optimists". When you compound that with the fact that we were unable to recruit many new corps members you can understand why 1964 was a challenging year. The "old" guys had taken a "beginners" corps and turned it into National Champions. They had set a goal of beating Scout House and, with a lot of determination and hard work, they not only had achieved that goal but had won 6 consecutive National titles! What would we do with their legacy? Would we be able to create a corps that carried on the Optimists tradition? Would we be able to win another Nationals? Or would we even compete in 1964?
At the end of 1963 many of our members, including much of our horn line, had aged out. Some of the guys from the '63 guard moved into the horn line and others joined the drums. Andy Henderson, who'd been our guard captain, became our new Drum Major. He was assisted by Vern Johansson who had been Drum Major of the Bantams. Still, we were very small. In 1963 we had 36 horns and we now had fewer than 20. Of course, we weren't about to let that deter us. During the winter we learned a bunch of new music. Some numbers such as "Jamaican Rhumba" and "As Long as She Needs Me" were only played at winter concerts while others like "Who Will Buy" and "More" made it into our field show. In the larger drum corps world the size of corps had been increasing and we weren't sure that we had enough bodies to field a winning corps. There was even talk of taking a year off. Thankfully, that never happened! Around spring time the Optimists Bantams closed down and many of their members joined us. While these "kids" may not have the experience that we wanted, they would soon get it. And, they swelled our ranks.
We began the year with about 30 guys carrying horns. While this looked OK, not all of them were playing. A few guys who had left for university also decided to return so, by season's end, we were fielding 34 horns. By Nationals all of us were playing — well enough to win a seventh National Championship.
On the Bus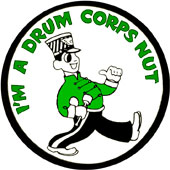 One thing I learned while in Optimists is that it's hard to arrive relaxed and full of energy after being cooped up on a bus during our frequent long trips (many of our trips required more than 10 hours of driving). Of course we'd try to get some rest on the bus but it was a challenge. Most of us tried to sleep in our seats but we often got bounced around when the bus hit a bump. Others stretched out in the aisle and got stepped on. The smaller ones had the most comfortable option since they could fit in the luggage racks and, except for the big bumps when they hit the roof, they had a relatively peaceful trip. Of course I'd be remiss if I failed to mention the crew who hung out in the back of the bus, ignoring any need for rest, playing cards during the whole trip. Looking back, we must have been crazy! And we went through all of this for a 12 or 13 minute performance! We really were drum corps nuts!
In 1964 we had two trips to the mid-west. The first trip was in the beginning of July and required 2,500 kms of travel and included two contests and two parades in a period of just three days. After driving 1,100 kms in about 12 hours we arrived in Racine WI, in the early hours of July 3rd. We did our best to get some rest before heading out to rehearse and then compete later that day. The results at this show, to put it mildly, were humbling. We competed against Boston Crusaders, Cavaliers, Royal Airs, Kilties and others. Boston won with 77.4, Royal Airs had a 75.5, Cavaliers came in at 73.9, Kilties (1964 VFW champs) were fourth with a 72.4 while we were way back in 9th place with 61.75. On the 4th of July we had a short trip to Milwaukee for their annual circus parade. The parade consisted of about 6 hours of playing with lots of stopping and starting in extremely high temperatures. By parade's end we were both exhausted and a few pounds lighter. After the parade we still had a 200 mile drive to Menominee, MI for a parade and contest on the 5th. At this show we redeemed ourselves a bit. Cavaliers won with 78.65, Kilties had 78.60 and, instead of 14 points behind the winner, we were 6 points behind and in 5th place with a 72.20. After the show we still had an 1,100 km drive to get back home. We arrived back to Toronto exhausted but determined to improve.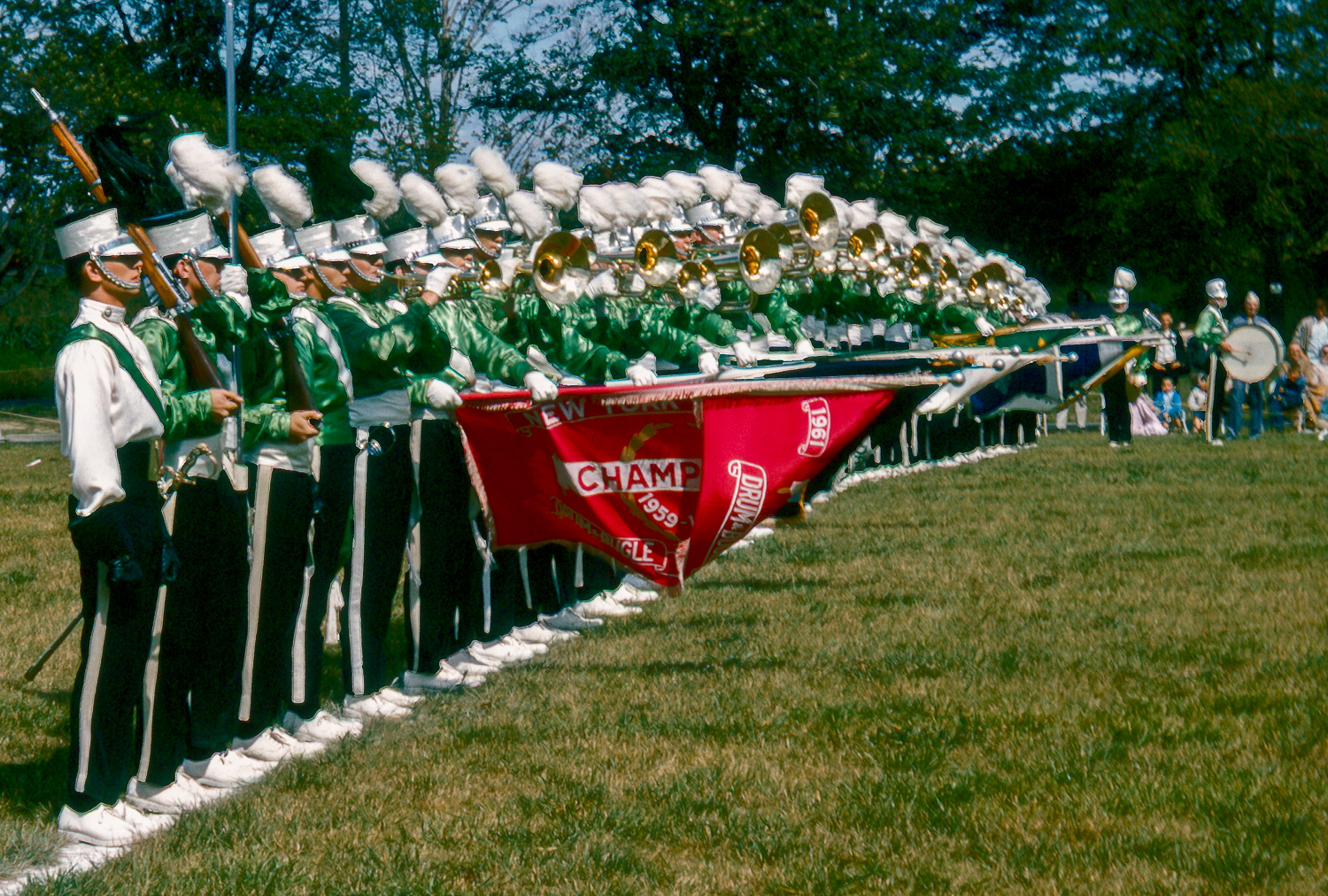 Toronto Optimists On The Line (1964)
Back then scores often moved around a lot because each jurisdiction had it's own rules and scoring system. For example, in Ontario 65 points were allocated for execution with 35 points for GE while New York had 55 points for Execution and 45 for GE. In Wisconsin there were 60 points for execution, 30 for GE plus 10 points for inspection but Illinois had 90 points for execution and only 10 for GE! It was both a mess and a challenge to put together a show that would do well in all of the areas where we competed.
On August 15 we were back in the mid-west for a contest in Highland Park, IL. This trip was shorter than the one in July and only required 1,800 kms of travel and we had just one contest. My recollection is that the trip was much like all the rest. We arrived, got some rest, wolfed down some food, rehearsed, competed and headed home. Cavaliers, Sac and the Kilties were at this show. Cavaliers won with 84.7, then Sac with a 79.28 followed by Kilties who got 76.4. We were in the middle of the pack, in fifth place, with a 73.77. In retrospect, the big surprise at this show was Kilties placement — over 8 points behind Cavaliers. Only 11 days later they were to beat Cavies by a full 2 points at the VFW Nationals. I remember going to the VFWs in Cleveland with some friends from Del but I don't remember a lot about the show. I do remember, however, that we saw Troopers for the first time and all of us were amazed by their superb drill (we had competed against Troopers but had never actually seen them perform).
Looking back at the year, I'd say that we rose to the challenge. I think that the "old guys" would have been proud of our accomplishments. Yes, it took a tremendous amount of hard work but we managed to continue the tradition, win Nationals and have a heck of a lot of fun doing it. The fact that those outside the corps were completely unaware of our struggles indicates the depth of commitment of our corps members and why the Optimists truly were champions.1964 was not a great year from a winning perspective but it was an outstanding re-building year and the continuation of the Optimists tradition into a new generation.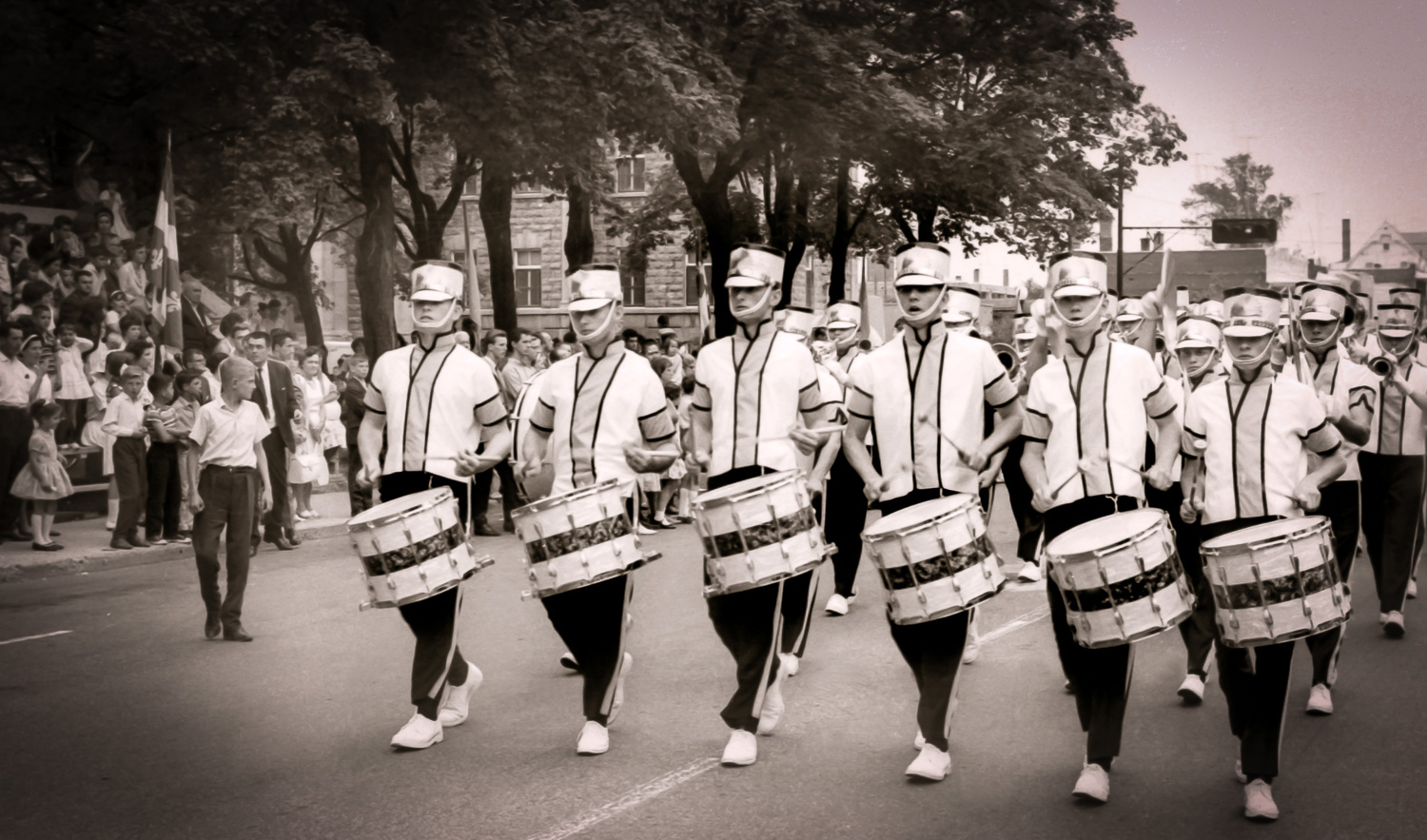 Toronto Optimists in summer parade tops (St Jerome, QC, 1964)
Here are a few memories of 1964
we got parade "tops" that consisted of a short-sleeve white cotton shirt with a green stripe, edged in black.
we got a mellophone and were the first Canadian corps to use them. It was played by Larry Greenwood and used for the 3rd soprano parts. At year end it was shelved. The next time Optimists used mellophones was 1968.
I have a vague recollection that we did the unthinkable and had to cancel an exhibition show in Hamilton in June (does anyone else remember this). The "story" was that too many guys had exams; the reality was that we weren't ready.
School had just ended when we headed west to begin our summer adventures. We were given new summer parade uniforms, short-sleeved and cotton. They were a real god-send, especially when we had to do the 100 mile Milwaukee Circus parade in temperatures that soared into the high 200s (well, maybe I exaggerate a bit). Anyway, the heat was blistering and we were VERY thankful that we had them.
In the parade I remember following elephants (and what they left behind)
and, when we stopped for breaks, inserting ice cubes into our shakos in an attempt to stay cool.
The occasional bystander offered us a brew. As good, pure, Canadian kids we, of course, refused.
I also remember being very impressed with Jeff Shimotakahara who perfectly hit the 16 count high "G" at the end of "It's Legitimate" the 4,000 times we played the number in the parade (we alternated between "Let Me Entertain You" and "It's Legitimate").
For a number of guys the highlight of the Menominee show was spending the night in jail. No, they hadn't done anything wrong. Fortunately, or unfortunately, there weren't enough local people to billet all of our corps members. The jail was offered as a possible solution. What a place to spend the night! Not to mention a wonderful opportunity to embellish a story about spending a night in jail.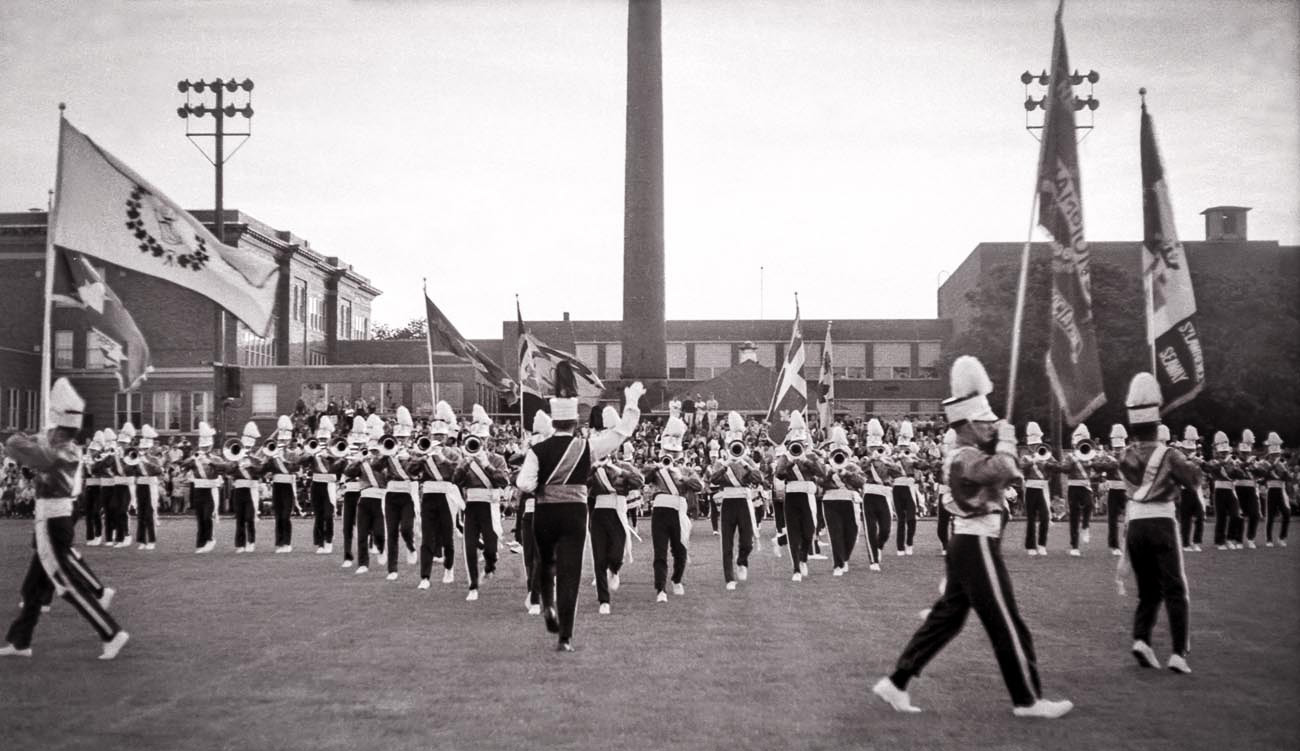 Toronto Optimists in Menominee, MI on July 5, 1964
We competed in a seniors contest in Titusville, PA and we lost – in a most unusual way. We had won this show for the previous few years. Before the contest began there had been a major rainstorm and, while performing, one of our corps members slipped in the mud and their knee touched the ground. Even though we were supposed to leave "dropped equipment" until a judge picked it up our member continued playing. The incident, however, was noticed by a judge. Even though he congratulated us on the smoothness of the move he docked us a tenth for dropped equipment and a full point for picking it up. We lost the contest by 1 point! Under "Other Material from 1964" you will find a link to a recording of us in Titusville.
we won in Shawinigan, QC and the trophy was so large that Vern Johansson fit in the trophy case!
and, of course, winning our 7th consecutive Nationals!
(This page and the memories have come from Bob Carell)
Scores for Optimists and some of our competitors as the summer of 1964 progressed
Corps Name
Kitchener
(June 27)
Racine
WI
(July 3)
Menominee
MI
(July 5)
East York
(July 25)
Rochester
(Aug 8)
Highland
Park, IL
(Aug 15)
Canadian
Nationals
(Sept 7)
VFW
Nationals
(Aug 7)
Optimists
83.81
61.75
72.20
82.90
74.40
73.77
84.35
De La Salle
79.50
79.40
65.70
79.35
Blessed Sacrament
79.28
7
Boston Crusaders
77.40
4
Cavaliers
73.90
78.65
84.17
3
Kilties
78.60
76.40
1
Royal Airs
75.50
2
St Joe's Batavia
83.45
80.85
6
Special Notice
We want to add a page of memories for each year of the Toronto Optimists, the Seneca Optimists and the Optimists Alumni. What you see above is an example of what we are trying to create. We hope that these pages will help to rekindle happy memories of years gone by.
Our goal is to gather corps-related memories specific to a particular year, rather than "generic" memories that would apply to all years. These memories could be about such things as performing in the corps, traveling with the corps, watching the corps from the stands, excerpts from articles in old corps mags, etc. It's not necessary to submit a whole year's worth of memories since contributions from different people can be edited and merged together to form the web page. We'll save the memories that people submit and, once we have enough material, we will compile them into a web page for that particular year. We'll probably add photos, recordings, etc then we'll post that page on the website.
If you have other memories of this year, or any other year, that you would like to submit, please send an email to Bob Carell (toronto_optimist at rogers.com)