March On! ...the history of the
Toronto Optimists Drum & Bugle Corps
Toronto, Ontario, Canada
Toronto Optimists: 1958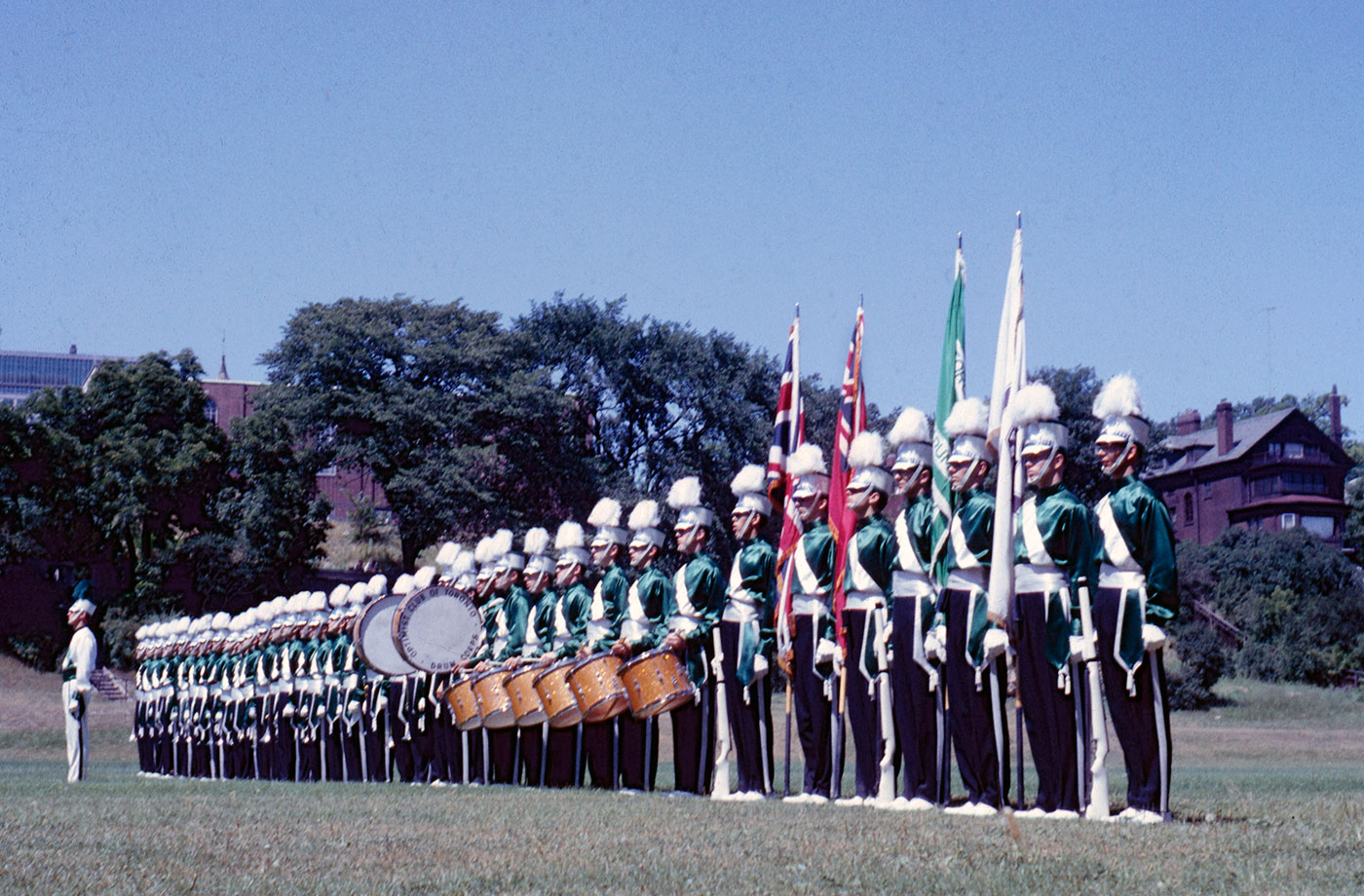 Toronto Optimists on the field at De La Salle (1958)
The first time together
All who wanted to be part of the unit that was being formed stood in the gym (at Jarvis Vocational School) where things were to be sorted out. It seemed like a hundred people were there. I don't think that anyone took an accurate count, as horn players lined the walls, drummers stood in the centre and extra bodies stood wherever they could find a place. People who had instruments held them. One fact was obvious: with the average size of a Junior "A" Drum Corps being 40 to 50 boys in those days, not everyone would be given a position. Competition for places would be intense but relieved somewhat when some fell away.
Mr. Baggs was there. He would be the Corps Director which, besides being responsible for the entire operation, entailed acting as a liaison between the Optimists Club and the Corps. Barry Bell would be the Bugle instructor, Lorne Ferrazzutti would be the Drum instructor Mr. Eric Burton would be in charge of the colour guard.
The job of sorting out people was made easier by the fact that most people already held the instrument of their choice.
At first there was a surplus of members but, as time went by, some drifted away. It appeared that some were fed up with drum corps. Others felt that the new corps wouldn't work. None of us, at this stage, knew this either. (an excerpt from Colin Hedworth's book "From Toronto...The Optimists")
This photo was taken on the front steps of De La Salle "Oaklands"
Photos at De la Salle "Oaklands"
That day of the picture we were all feeling so proud, and this was going to be a picture that would be in programs etc., not really thinking that we were on the campus of our future rival. It was Mr. Baggs who arranged for these pictures to be taken – at this time we did not have Don Daber. There were other photos taken at this time and they showed the Corps on the field in concert formation and a company front. I remember the day was quite long with the photographer having us together in different poses. (Phil Hennings)
Click on the link for a BIG view! Acrobat file with the names of the 1958 corps members (a few names are missing).
Receiving the City of Toronto Flag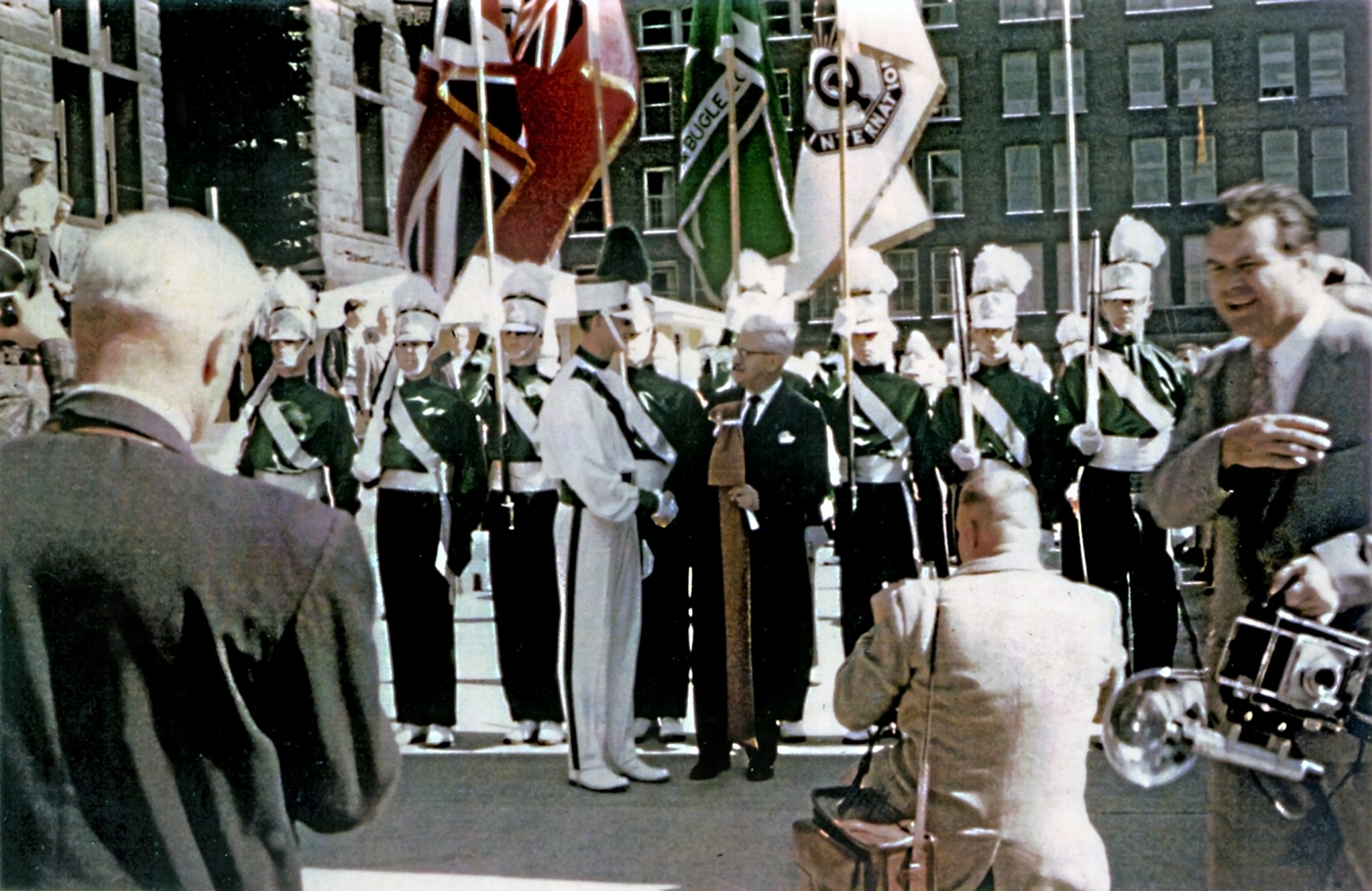 Toronto Mayor, Nathan Phillips, presents Phil Hennings, Drum Major of the Optimists, with the City of Toronto Flag
Our first partial field show that we did in front of an audience occurred on May 3, 1958 at the University Armouries, in Toronto. There were several Corps there – Scout House, St Mary's, and several others that I can't think of at the moment.
The crowd was impressed with the colour of our uniforms and the style of music that we played. It was clear to all who were there that there was a new kid on the block! Thanks for this goes to our music instructors – Barry Bell and Lorne Ferrazzutti. After this show we were invited to perform in Batavia, New York – our first appearance in the U.S.A.. (Phil Hennings)
There's an interesting story behind the presentation of the flag and a link to that story can be found near the bottom of the page under "Other Material from 1958".
The Canadian Championships: September 13, 1958 in Galt, ON
Our first Nationals (Galt, 1958)
The crowd was quite large, swelled, no doubt, by the expectation of a true challenge for "The Title". Off we stepped and, for the next 15 minutes, nobody thought of anything else but their part to be played. When the last note sounded across the finish line everybody knew it had been a good show. The best of which we were capable. Nothing major had gone wrong.
Marching off to prolonged applause, we took up positions on a nearby hill, under a tree, to watch the other corps perform. These included Scout House, De La Salle, Grantham Police Boys Band and numerous others. After all the corps were finished tensions rose as scores were calculated. Came the moment of truth and all pretense of relaxation was abandoned. What was done was done and nothing could alter it now. All was apprehension as the voice of the announcer droned over the P.A. System.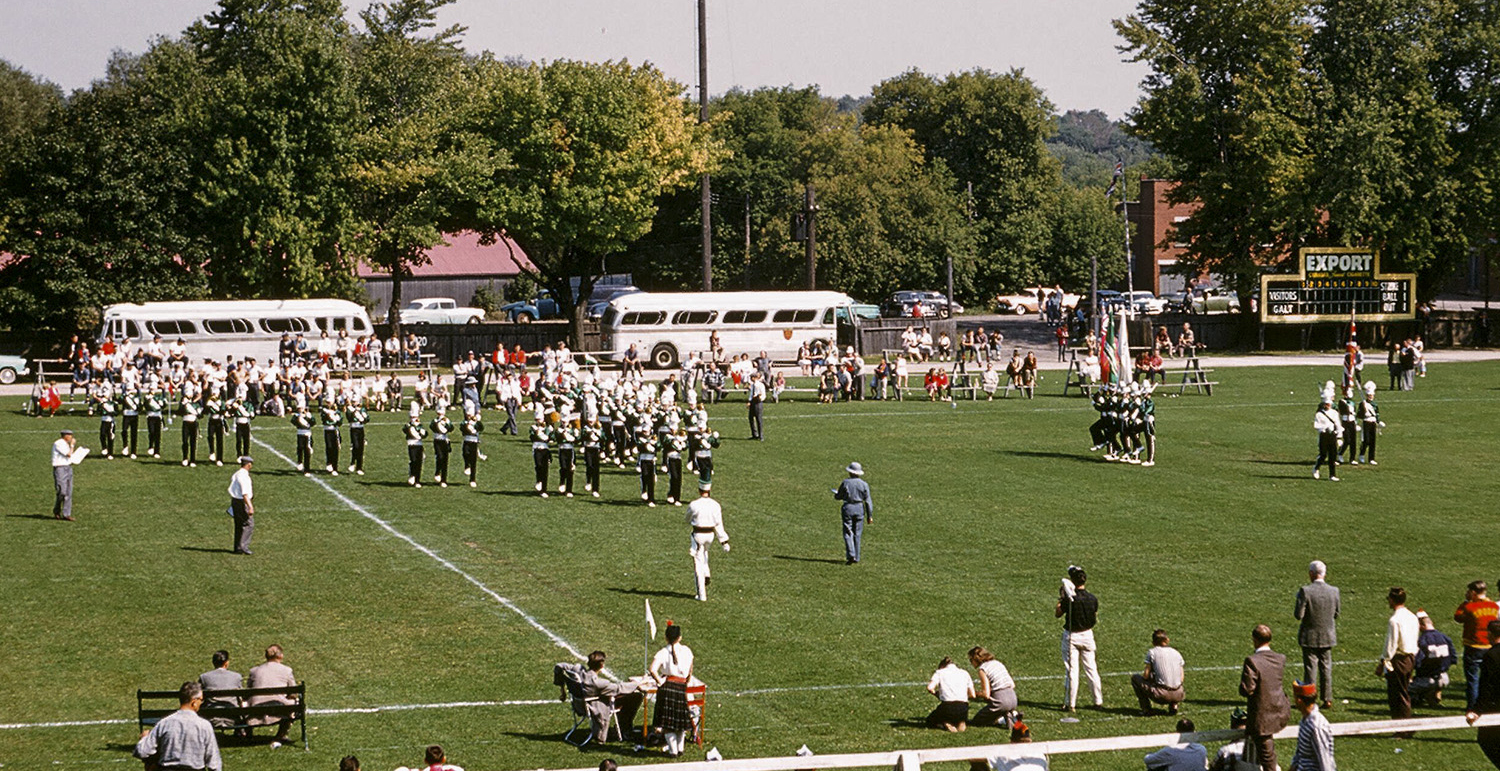 Our first Nationals (Galt, 1958)
| | |
| --- | --- |
| Royal Knights (Toronto) | 66.97 |
| Sky Raiders (Don Mills) | 73.33 |
| Grantham (St Catharines) | 75.42 |
| De La Salle (Toronto) | 77.09 |
Then, as announcers often do, the second place score was given:
80.11 . . . . . .
A nerve wracking pause ensued, then the words "Preston Scout House" echoed across the park. The green shirted crew exploded in a frenzy of youthful exuberance. Utmost self-discipline had to be exerted in order for their own first place score to be heard. It was 81.61 We had won by a margin of 1.5 points! A solid victory that had been accomplished by wins in the execution captions. (an excerpt from Colin Hedworth's book "From Toronto...The Optimists")
Scores for Optimists and some of our competitors as the summer of 1958 progressed
Contest →

Corps Name ↓
University
Armouries
(May 3)
Batavia
(May 31)
East York
(June 21)
Falconer
NY
(July 12)
Niagara Falls
ON
(Aug 4)
C.N.E.
Toronto
(Aug 30)
Merritton
ON
(Sept 1)
Canadian
Nationals
(Sept 13)
Optimists
75.92
71.84
exhibition
79.47
73.25
83.50
79.60
81.61
Preston Scout House
79.75
76.42
79.72
80.11
De La Salle
73.67
77.90
75.60
77.09
Grantham Boys
67.77
68.62
78.19
74.30
75.42
Don Mills Sky Raiders
71.60
71.38
73.33
Royal Knights (Toronto)
64.81
66.97
Leaside Lions
67.29
St Marys (Toronto)
57.85
55.01
Audubon
82.01
St Vincent's Cadets
81.82
Holy Name Cadets
81.74
Port Dalhousie Guardsmen
(senior)
65.86
71.10
Niagara Militaires
(senior)
78.59
71.12
76.60
Erie Continentals
(senior)
76.58
Brockport-Batavia Cavaliers
(senior)
70.02
Special Notice
We want to add a page of memories for each year of the Toronto Optimists, the Seneca Optimists and the Optimists Alumni. What you see above is an example of what we are trying to create. We hope that these pages will help to rekindle happy memories of years gone by.
Our goal is to gather corps-related memories specific to a particular year, rather than "generic" memories that would apply to all years. These memories could be about such things as performing in the corps, traveling with the corps, watching the corps from the stands, excerpts from articles in old corps mags, etc. It's not necessary to submit a whole year's worth of memories since contributions from different people can be edited and merged together to form the web page. We'll save the memories that people submit and, once we have enough material, we will compile them into a web page for that particular year. We'll probably add photos, recordings, etc then we'll post that page on the website.
If you have other memories of this year, or any other year, that you would like to submit, please send an email to Bob Carell (toronto_optimist at rogers.com)